SUKIYA-Look for the red bowl
Japan's must try leading Gyudon Chain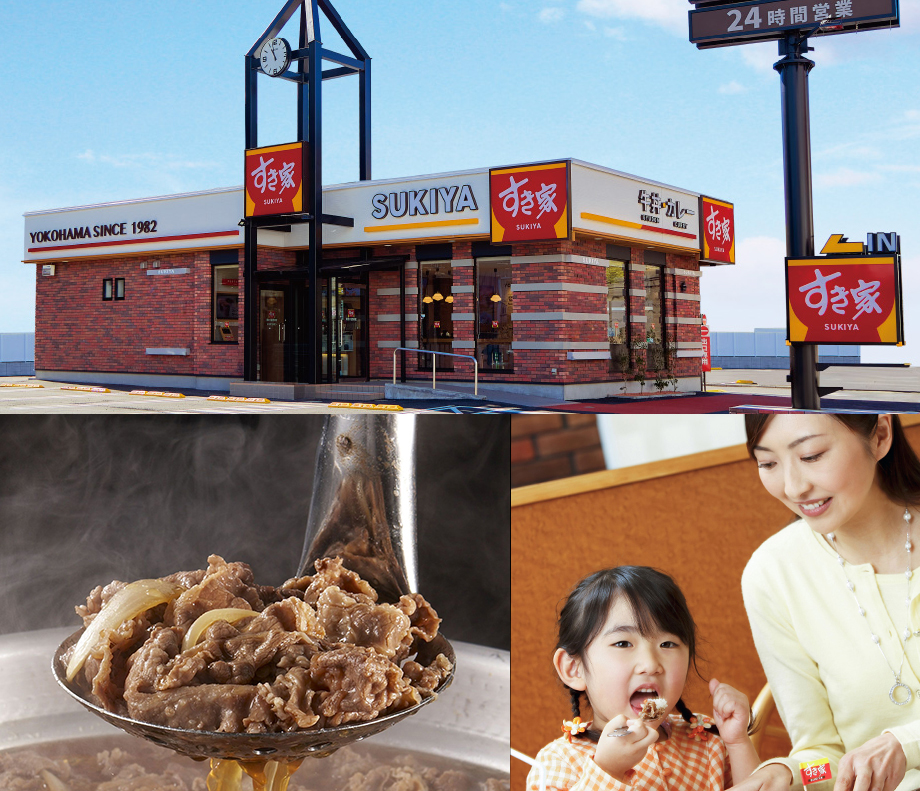 SUKIYA is Japan's leading Gyudon restaurant chain with about 2,000 outlets nationwide.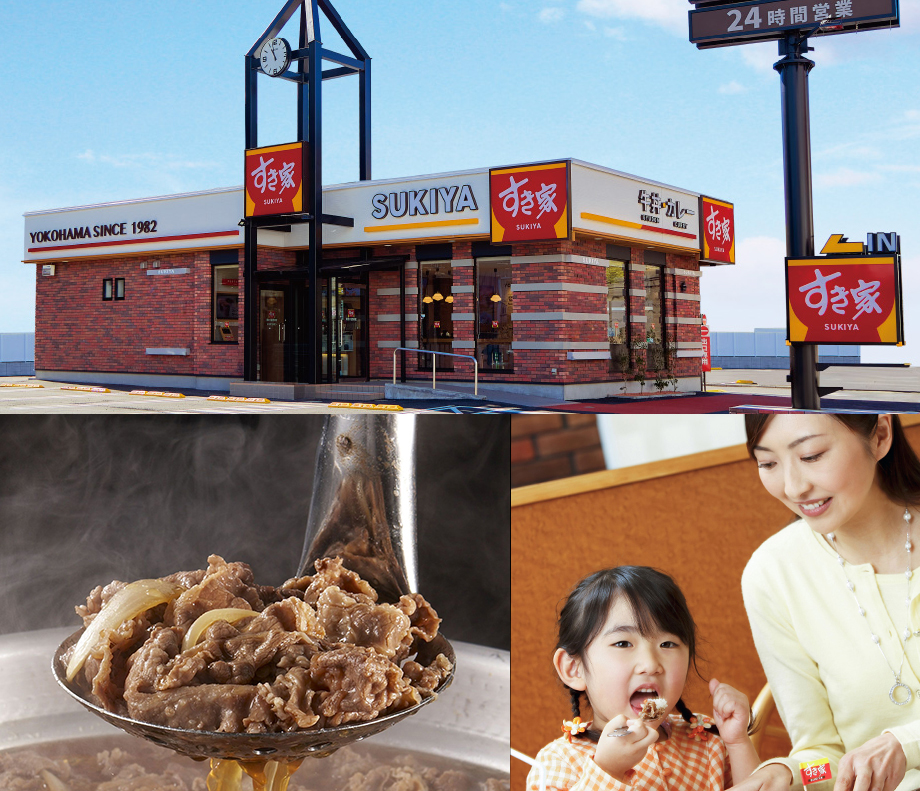 SUKIYA is a tremendous value. A regular-sized Gyudon costs only JPY350. The price of set menu of Gyudon with side dishes such as Miso soup and green salad is about JPY500 to JPY700.
Also, at SUKIYA, you can enjoy variety of popular Japanese meals; Gyudon, ginger pork bowl, rice and curry, and so on. These meals can be customized to guests' individual preferences with variety of toppings including cheese and kimchi.
SUKIYA provides breakfast sets at reasonable prices as well. We hope you'll find and visit SUKIYA near your stay or places you visit.
MENU
What's Gyudon?

Gyudon is a Japanese dish consisting of a bowl of rice topped with thinly sliced beef and onions simmered in a mildly sweet soy based sauce. Gyudon is a very popular quick meal often enjoyed for lunch. Although "fast" in preparation time and price, Gyudon is a nutritious and balanced meal. Also, you can customize your Gyudon with variety of delicious toppings such as kimchi and cheese.. In addition, Gyudon is available in 6 sizes from mini to mega, so you can choose the one that's best for your appetite.
What's Teishoku?

Teishoku means "set meal" in Japanese. And our Teishoku is a combination of a main dish and side dishes such as rice, miso soup and pickled veggies. SUKIYA offers you simmered beef, ginger pork, grilled salmon and natto, fermented soybeans for our Teishoku the main dish. Our Teishoku meals are healthy and well balanced Japanese cuisine. We also offer breakfast sets in the morning at reasonable prices.
Gyudon

S

¥290


M

¥350


M-extra

¥480


(more meat than M)

L

¥480


XL

¥630


MEGA

¥780
Gyudon w/ Kimchi

S

¥420


M

¥480


M-extra

¥610


(more meat than M)

L

¥610


XL

¥760


MEGA

¥910
Gyudon with 3 Cheeses

S

¥440


M

¥500


M-extra

¥630


(more meat than M)

L

¥630


XL

¥780


MEGA

¥930
Gyudon with Grated Radish

S

¥420


M

¥480


M-extra

¥610


(more meat than M)

L

¥610


XL

¥760


MEGA

¥910
Gyudon with Mustard Leaf, Cod Caviar and Mayonnaise

S

¥420


M

¥480


M-extra

¥610


(more meat than M)

L

¥610


XL

¥760


MEGA

¥910
Gyudon with Green Onion and Raw Egg

S

¥420


M

¥480


M-extra

¥610


(more meat than M)

L

¥610


XL

¥760


MEGA

¥910
Gyudon with Grated Yam

S

¥420


M

¥480


M-extra

¥610


(more meat than M)

L

¥610


XL

¥760


MEGA

¥910
Gyudon with Lettuce on Tofu
(soybean curd)*no rice

Beef S

¥390


Beef M

¥430


Beef L

¥530

You can add a value set
Miso Soup and Salad
Miso Soup and Green Salad with Potato
Miso Soup and Green Salad with Okra
Miso Soup & Tofu
Miso Soup and Raw Egg
Miso Soup and Pickled Veggies
Miso Soup, Raw Egg and Pickled Veggies
Miso Soup* → Pork Miso Soup

+

¥110


*fermented soy paste
European Style Beef Stock Curry Rice w/ Beef

S

¥550


M

¥650


M-extra

¥750


(more curry than M)

L

¥790


XL

¥890
Beef Stock Curry Rice w/ Beef & Soft-Boiled Egg

S

¥630


M

¥730


M-extra

¥830


(more curry than M)

L

¥870


XL

¥970
Beef Stock Curry Rice w/ Cheese

S

¥500


M

¥600


M-extra

¥700


(more curry than M)

L

¥740


XL

¥840
Beef Stock Curry Rice w/ Doubled Soft-Boiled Egg

S

¥530


M

¥630


M-extra

¥730


(more curry than M)

L

¥770


XL

¥870
Beef Stock Curry Rice w/ Soft-Boiled Egg

S

¥460


M

¥560


M-extra

¥660


(more curry than M)

L

¥700


XL

¥800
Beef Stock Curry Rice w/ Sausage

S

¥530


M

¥630


M-extra

¥730


(more curry than M)

L

¥770


XL

¥870
Beef Stock Curry Rice w/ Beef ,Cheese,Spinach,Sausage & Soft-Boiled Egg

S

¥880


M

¥980


M-extra

¥1,080


(more curry than M)

L

¥1,120


XL

¥1,220
Beef Stock Curry Rice

S

¥380


M

¥480


M-extra

¥580


(more curry than M)

L

¥620


XL

¥720
You can add a value set
Miso Soup and Salad
Miso Soup and Green Salad with Potato
Miso Soup and Green Salad with Okra
Miso Soup & Tofu
Miso Soup and Raw Egg
Miso Soup and Pickled Veggies
Miso Soup, Raw Egg and Pickled Veggies
Miso Soup* → Pork Miso Soup

+

¥110


*fermented soy paste
Sichuan Style Mapo Tofu Rice Bowl
Chili Shrimp Rice Bowl
Minced Tuna Bowl
Minced Tuna Bowl with Raw Egg & Kochujang Sauce
Minced Chicken Bowl with Raw Egg
You can add a value set
Miso Soup and Salad
Miso Soup and Green Salad with Potato
Miso Soup and Green Salad with Okra
Miso Soup & Tofu
Miso Soup and Raw Egg
Miso Soup and Pickled Veggies
Miso Soup, Raw Egg and Pickled Veggies
Miso Soup* → Pork Miso Soup

+

¥110


*fermented soy paste
Beef Plate Teishoku
Salmon Teishoku
Natto Teishoku